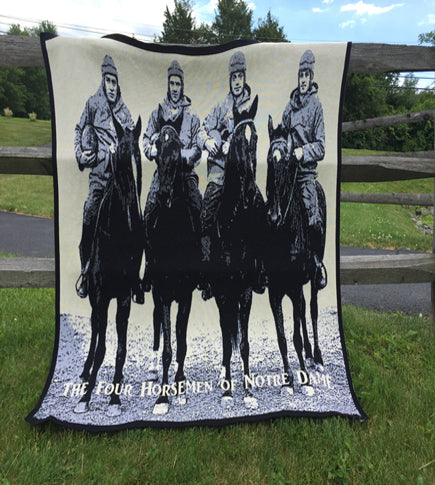 Custom Made Comfort
Notre Dame Four Horsemen 60 x 64 over-sized
$ 195.00 USD $ 225.00 USD

Shipping Timeframes
Description
This is a spectacular keepsake, The Notre Dame Four Horsemen embedded into our heirloom-quality blanket. For the ultimate Notre Dame fan. Officially licensed by both The University of Notre Dame and The Four Horsemen, a proud representation of a classic image. 
- 100% soft natural and recycled Cotton
- Registered Trademarked Licensed logo
- Machine Washable
- 60" x 64
- Weight: Approximately 4.5 lbs
- Proudly made in U.S.A.
Fully Licensed 
FREE SHIPPING
100% Satisfaction Guaranteed